Hi darlins'! It's great to see ya here!
Follow Me on Bloglovin'
It's been awhile since I've joined in on What I Ate Wednesday, mainly because I've been traveling and eating a lot of leftovers and haven't been very good about documenting said eats... oops.
On top of that, the minimal amount of cooking I have been doing has been just been boring, simple comfort food so I wasn't too inspired to share.
HOWEVER, now that we're back to a somewhat normal routine of cooking on our own again, I have a scrumptious recipe from yesterday to share! I give you... my ultimate favorite banana bread recipe, courtesy of my big sister!
Chocolate Chip Banana Bread
How to Make It:
Cream Together:
3/4 c. butter
1 1/2 c. sugar
Mix Below Dry and Add Alternately with 1/2 c. butter milk or sour milk*:
2 c. flour
1 tsp. baking soda
3/4 tsp. salt
Mix and Add:
1 1/2 c. (about 3) mashed bananas (black is best!)
2 eggs
1 tsp. vanilla
3/4 c. chocolate chips
*if you don't have buttermilk, sour milk is 1/2 c. milk with 1/5 Tbsp. of white vinegar
Pour into greased and floured 9x5x3 loaf pan and bake at 325F for 1 hour+ until knife comes out clean. Let cool & enjoy!
---
In the spirit of WIAW, my other eats yesterday included...
Breakfast:
Eggs at the office
, complete with a sprig of rosemary from my tree!
Morning & Afternoon Snacks:
small handfuls of roasted & salted almonds (i'm addicted)
Lunch [not pictured]:
a small mixed plate of chicken, cheesy potatoes, green beans, fruit and salad at my office's annual ladies' luncheon with a mini brownie, oatmeal cookies & cannoli for dessert -- talk about a fabulous food coma!
Dinner:
a deeeeeelicious plate of true southern BBQ at
Edley's Bar-B-Que
!
Dessert:
Southern craft beer...in cans... because I can :)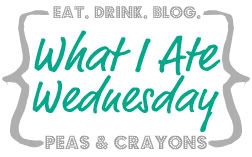 Thanks for reading y'all and have a happy Wednesday! Be sure to check out everybody's drool-worthy eats & Jenn's fabulous recipes over at
Peas & Crayons
!
What kinds of special add-ins do you like in your banana bread?
chocolate chips are the beeeest!