Hi darlins'! It's great to see ya here!
Follow Me on Bloglovin'
Happy What-I-Ate-Wednesday!! Unfortunately, I'm having a bit of writer's block, so I'll just cut right to the chase and start sharing my eats from yesterday...
Breakfast [not pictured]:
a
simple scramble
complete with 1/4 an avocado and diced-up chicken
Lunch:
a sandwich on multi-grain bread with jerk turkey breast, chipotle gouda cheese, tomatoes from Matt's mama's garden and an
amazing
red pepper creamy sunflower spread that my new foodie friend Sonya at
Baltimore Baker
sent me!
Evening Snack: a refreshing apple as I walked out of the gym :)
Dinner:
a fresh-from-the-freezer chipotle chicken dinner made in the skillet (complete with a fancy side of ritz crackers!) hey, we can't be gourmet all the time, but this was
delicious
all the same :)
Thanks for reading!! If you're looking for some more yummy eats be sure to check out the goodies at
Peas & Crayons
, Jenn has some
amazing
recipes over there!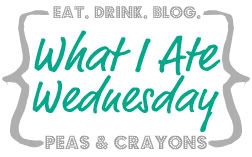 What are your favorite things to cook when you don't have time to cook?
simple scrambles!