Hi darlins'! It's great to see ya here!
Follow Me on Bloglovin'
Happy What-I-Ate-Wednesday! Don't you love that the weather is cooling off? It makes me want to just sit around and eat all of my most favorite comfort foods all day long (as can be evidenced by the almost empty box of pumpkin spice donuts on our counter at home).
One of my favorite,
healthier
comfort meals is something my Mom has been cooking for me forever, Red Beans & Rice. I gave it a whirl on my own last night, made some adjustments and it was really tasty!
Red Beans & Rice
2 cans low-sodium dark red kidney beans
2 medium onions, minced
4 garlic cloves, minced
1 jalapeño, minced
3 Tbsp olive oil
1 tsp cumin
1 tsp coriander
1 tsp paprika
salt 'n pepper to taste
Fry onions, garlic and jalapeño in olive oil until soft. Add kidney beans and seasonings, then cook until heated through (roughly 30 minutes). Serve over rice & enjoy! I paired mine with a crisp cider from Angry Orchard :)
Not going to lie, it was fabulous to devour such a filling dish after a day of eating lots of small, light meals. Here are my other eats from yesterday:
Hungry for more eats? If so, head over to
Peas & Crayons
to check out Jenn and others' fabulous dishes (her recipes are pretty killer too!)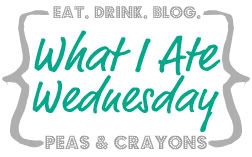 Thanks for reading! Have a great day!!
What's your favorite comfort meal?
Pizza! ...But pasta with alfredo sauce is a close second (check out my recipe for Spicy Parmesan Alfredo Sauce)