Hi darlins'! It's great to see ya here!
It's hard to believe this is Southern Thintellect's 100th post! Thank you all so much for reading, you're the reason it's so fun to blog :)
Here's wishing you a Happy What-I-Ate-Wednesday! I don't have a new recipe for you today, just a Sunday full of random eats...
Post Long Run Breakfast:
Tangerine Greek yogurt, a banana and a slice of multi-grain toast with smart balance light and strawberry Bama jam
NFL Sunday Snack (noshed on throughout the day): roasted & salted pistachios
Lunch & Dinner: Slices of the Maui Wowie pizza from Mellow Mushroom, it had a pesto base with ham, pineapple, jerk chicken, applewood-smoked bacon & mozzarella cheese.
Dessert: Homemade brownies. Because what weekend would be complete without a little baking? :)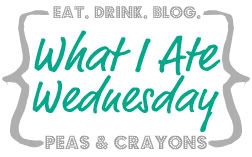 Thanks for reading, I hope y'all have an incredible Wednesday!
What was your last dessert treat to yourself?
What's your favorite meal after a long run?