Hi darlins'! It's great to see ya here!
Follow Me on Bloglovin'
My legs may feel pretty ragged this morning, but I couldn't be happier that I'm staying on track with my marathon training plan! On Monday, I got ambitious and squatted my little heart out (completed 200 squats after weeks of not doing any, eek!) and then yesterday I willed myself to run the 6 miles on my training calendar since I swapped the 7 miles I had planned to do on Sunday for a shorter, 3 mile run. On the agenda tonight is a 3-mile, race pace run.
On to the food! The meals below are from this Monday:
Breakfast:
two full eggs and 1/2 an avocado
Snack #1:
a bowl of green, seedless grapes
Lunch:
steamed broccoli, a vine-ripened tomato and 1/2 an avocado
Snack #2:
a cucumber and a yellow pepper
Dinner:
a super spicy breakfast burrito: eggs, red & green bell peppers, onion, jalapeño and chicken served with hot sauce
What is your favorite hot sauce?
Cholula
Do you eat smaller or larger meals post-workout?
I tend to save my appetite for a large dinner or lunch rather than snacking immediately after.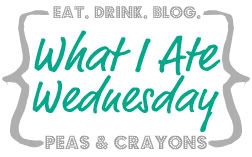 Happy What-I-Ate-Wednesday! Thanks for reading!!