Hi darlins'! It's great to see ya here!
Follow Me on Bloglovin'
The other night I concocted a fun & fruity MONSTER protein smoothie for dinner and I enjoyed it ever so much that I thought I'd share the recipe...
Blueberry Chocolate Protein Smoothie
1 scoop chocolate protein powder
1 c. plain non-fat yogurt
1 c. frozen blueberries
2 Tbsp. whole flax meal
add ice to desired thickness
Mix these up in a blender and enjoy! Easy, right?
...and if you're interested, here are my other eats from Monday:
Breakfast:
3-egg
scramble
with red bell pepper & onions
Snack #1:
a single serving of blood orange Chobani yogurt (my new favorite flavor!)
Lunch:
a heaping bowl of steamed cut green beans served with chopped up chicken and roma tomatoes
Snack #2:
a big handful of roasted & salted pistachios (i'm addicted)
Dinner:
the fabulous smoothie described above!
Thanks for reading, and Happy What-I-Ate-Wednesday!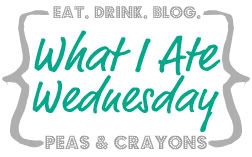 Do you prefer chocolate or vanilla protein powder?
It just depends on my mood, but I more frequently use vanilla protein powder in my smoothies.