Hi darlins'! It's great to see ya here!
Follow Me on Bloglovin'
Happy What I Ate Wednesday! Today, I'm sharing my colorful meals from Monday. Lots of veggies, some fruit, and of course bacon! Enjoy the Eats :)
Breakfast:
3 full eggs, 1/2 an avocado and a small handful of chopped up grape tomatoes.
Snack no. 1:
a small plate of baby carrots
Lunch:
a bag of steamfresh broccoli cuts, 1/2 an avocado and another small handful of chopped up cherry tomatoes
Snack no. 2: a handful of blueberries
Snack no. 3:
a handful of roasted & salted pistachios
Dinner:
I ended up finishing only 2 of the
Pepper Bacon-Wrapped Jalapeño Chicken Bites
on my plate, but I demolished the rosemary herb roasted red potatoes & homemade brown sugar BBQ sauce! We had too much fun making this meal ;)
Dessert:
a homemade chocolate chai popsicle!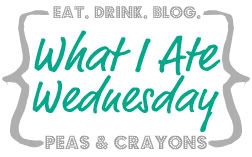 Thank you for reading! Some foodie follow-up questions for y'all...
What's your favorite homemade popsicle flavor?
orange + vanilla (think dreamsicle)
Favorite way to eat bacon?
i like my bacon extra crispy & paired with eggs
101 days until the Nashville Marathon presented by Hard Rock Cafe