Hi darlins'! It's great to see ya here!
We were gone over the weekend exploring southern TN, so today's What I Ate Wednesday eats are basically just what I was able to scrap together before I thankfully went grocery shopping last night. It was more fun than I thought it would be, getting creative and branching out -- I hope you enjoy!
My day had an especially fruity start. We bought some peaches in GA over the weekend, and I miraculously had leftover fruit from our getaway cocktail stash to add to the mix. Clearly, we didn't drink enough last Saturday ;)
I reached into the relative depths of the pantry for my AM snack: some trail mix I had bought for camping trips last fall. Hey, there was chocolate in it and the package wasn't expired so I was a happy woman!
For lunch, I happily regressed to the freezer, canned goods and cooking skills I acquired at age six. Ala, chicken noodle soup & chicken tenders. Yes, I know, it was quite wonderful...
After work, I headed straight to the gym & busted out some more
Bad Ass Beautiful
circuit workouts before trucking it to the grocery store to replenish our food stuffs. Unfortunately, I was too zonked after the gym to cook any of it. Instead, Matt & I sauntered over to our favorite neighborhood taco joint and I noshed on a black bean taco with sweet potato fries.
Of course I forgot to take a picture of dinner, but I didn't hesitate to snap a shot of this cool dude on the walk to the restaurant: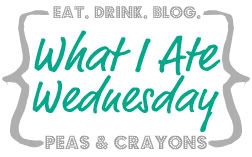 What's your favorite economically creative meal you've whipped up recently?
A pile of leftover fruit.
Chicken Noodle or Tomato soup?
On its own, I'd take tomato...
Have you been following our Bad Ass Beautiful challenge?
Sabrina over at Lit Laugh Love has made some incredible progress in her 'treats for the soul' goals, check it out here! I'm super impressed by her framed positive daily reminders. If you're particiating with us, there's only one week left in June, but plenty of time to check some more boxes off your #InsideandOut 'To Do' list. :)
Happy Wednesday, I hope you have you a great one!