Hi darlins'! It's great to see ya here :)
I'm back for another edition of What I Ate Wednesday, and boy did I have some good homemade eats earlier this week!
For a sunny start to my morning, breakfast was a typical
scramble
with a Southwestern twist. Red and green bell peppers spiced up my usual egg-tastic routine. This one had 2 full eggs and about a 1/2 cup of red & green bell peppers diced.
Around 11am, I noshed on a juicy bowl of navel oranges and fresh pineapple chunks.
At lunchtime, I threw together some steamed broccoli and chicken. It always hits the spot!
I usually get pretty hungry a few hours after lunch, so I was happy to down a big bowl of sliced up cucumber and red bell pepper around 4pm.
Dinner was where the homecooking thrived. Matt and I put our heads together and used a ton of leftovers to whip up this filling pasta concoction and side of roasted garlic sweet potato fries!
Not pictured is the
other
delicious homemade treat we whipped up for dessert... Banana Bread w/ Chocolate Chips! One of my favorite family recipes, it just tastes like home :)
What's your favorite dessert?
Anything with chocolate involved.
What time do you normally (if you do at all) eat breakfast?
Around 8 a.m. on a typical weekday.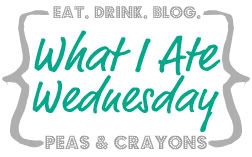 Thanks for reading, and have a wonderful Wednesday!