Hi darlins'! It's great to see ya here!
In the spirit of June's
Bad Ass Beautiful #InsideandOut challenge
, I'm going to share eats from the 1st day of my 3-day undertaking to abstain from foods with more than 5 ingredients on the label for today's What I Ate Wednesday post...
For Breakfast I had a small plate of raspberries with my usual scramble, this one was just 2 full eggs & a dash of salt n' pepper...
Mid-morning, I enjoyed a sliced up red bell pepper and petite carrots. I love love love peppers raw :)
For lunch, I mixed up an entire bag of steamed broccoli with 1 full egg and 2 egg whites. Pretty tasty!
Then around 4pm or so, I chowed on some more veggies for an afternoon snack, this time a bowl of semi-peeled and sliced up english cucumber with carrots...
Due to the fact that we were traveling over the weekend, we didn't really have a lot of groceries left for me to get creative with dinner. I did however scrounge up a yummy bowl of plain greek yogurt, fresh pineapple, blueberries and honey to eat after my circuit workout.
Then a couple hours before bed (keeping to
goal #2
) I had a late night snack of peanut butter... straight from the jar :)
After keeping with this interesting and difficult challenge yesterday, I'm now starting my 3rd day of abstaining from foods with >5 ingredients on the label. Luckily, I made a quick trip to the grocery store yesterday so today should be much easier!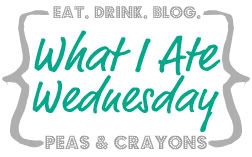 Interested in seeing more tantalizing pictures of food? Check out
Peas & Crayons
!
Thank you for reading & Have a Wonderful Wednesday!