Hi darlins'! It's great to see ya here!
For today's What I Ate Wednesday I'm sharing some very fresh eats from last Friday...
I started the day off with an avocadolicious scramble for breakfast. This one had 2 full eggs, 1/2 a vine ripened tomato & 1/2 of an avocado. Absolutely scrumptious, the tomato complemented the avocado so well! Check the recipe
here
.
After reading Greatist's 2013 "Dirty Dozen" list (a MUST read in my humble opinion), I've been gravitating more & more towards organic produce. For example, I opted for organic Gala apples on my last grocery trip, and this one made an excellent morning snack.
For lunch, I combined the rest of my leftover tomato & avocado from breakfast with some
homemade garlic pesto hummus
on a wheat tortilla. YUM.
Immediately after work, I mixed up a strawberry protein smoothie (
check here for my standard recipe
). Normally, I don't eat before workouts but this snack hit the spot. I blended about 1 cup of strawberries (non-organic) with Vanilla Almond milk and Vanilla protein powder for a fruity pick-me-up before my run.
When dinner time rolled around I was really hankering for some chicken. Luckily, I picked up a whole rotisserie chicken on our last grocery run and a couple drumsticks paired quite well with steamed Italian green beans :)
If you'd like to see more delectable dishes by some other amazing bloggers, you can check them out at
Peas & Crayons
.
For a look at what made the 'Dirty Dozen' and 'Clean Fifteen' lists this year,
check here
, you may be surprised by what you read!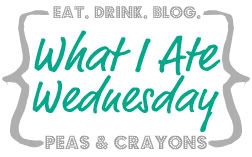 Thank you for reading & Have a Wonderful Wednesday!