Hi darlins'! It's great to see ya here!
Today for WIAW I'm sharing eats from last Saturday. Typically, on the weekends I find myself snacking less and gravitating towards larger (and more carb-filled) meals. Hey, it's the weekend right? :)
I'm a big lover of pancakes, and when I saw
this recipe
for pancakes made with coconut flour I just couldn't resist swinging by Whole Foods to grab the goods and try them out. Verdict -- They would be good by themselves, but the kiwi and bananas really made the difference! For Breakfast, I enjoyed them with a drizzle of syrup and a big steaming mug of coffee.
At lunchtime, Matt & I decided to head to
a local microbrewery
we'd never tried before and split some NY style BBQ pizza. I also snatched a few of his onion rings and ordered a side of spiced apples with my slice. Not pictured are the few drinks we had, but fun fact - the brewers there give naughty names to all of their beers (we enjoyed the Yeast Nasty, CircumSaison and Pecker Wrecker varieties).
Around 4 o'clock or so, I noshed on about half an English cucumber with a bit of my
homemade garlic pesto hummus
while catching up on a little Game of Thrones reading. I'm in the middle of Book 5 and things are getting REAL.
Dinner was a classic option for me. Eggs + Peppers + Potato + Chicken + Tortillas + Hot Sauce = Heaven.
If you want to see many more wonderful posts for WIAW by others, check out
Peas and Crayons.
Or, if you're interested, here are some of the other
naughty brews
that Cool Springs Brewery concocts.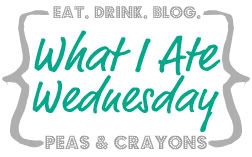 Have a Wonderful Wednesday!