Hi darlins'! It's great to see ya here!
I'm back with a new edition of What I Ate Wednesday, just another great day of random meals :) You can check out other fun WIAW posts at the link below -- there are a lot of them.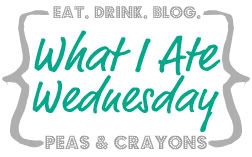 Kicking off my day with a hearty
breakfast
was a two-egg, half baked potato scramble with a couple of
spicy paleo meatballs
...
Morning Snack: Banana
Afternoon Snack: Blood Orange Chobani
Quick, easy and fruity!
Lunch was a quick mix of Bird's Eye lightly sauced steamed Italian green beans and chicken...
Later, to re-fuel post-workout, I slammed a pint of drained off chickpea liquid...
JUST KIDDING. But I did add about half of that drained off chickpea liquid back to the batch of
pesto garlic hummus
I made for Matt :)
Dinner was essentially a random mix of leftovers in a bowl -- iceberg lettuce, steamed creamed spinach and a baked sweet potato. The flavors mixed together weren't half bad, but the texture left something to be desired. Even with the odd end result, it was really filling and I felt good about not being wasteful with my produce :)
Hope you enjoyed the food, I know I did -- Have a really Happy Wednesday!!