Hi darlins'! It's great to see ya here!'
I don't have any cute theme for my 2nd WIAW -- it's just a random day of food...enjoy!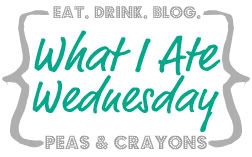 For starters...
Breakfast was a mix of 1 whole egg + 2 egg whites and 3 chopped up Italian meatballs. MmmMmm!
Mid-Morning Snack: Blueberries
Mid-Afternoon Snack: Baby Carrots
Early Evening Snack: Carmelized Onion Hummus w/ Tortilla Chips
Lunch was a mish-mash of leftovers. I combined about 1/4 of a leftover black bean quesadilla stuffed with spinach, grilled peppers, onions and cheese with a chopped up baked potato and some more baby spinach!
Dinner was served over the grill by Matt - Jalapeno bratwursts and asaparagus seasoned with salt, pepper and crushed red pepper flakes. Spicy! Since I just ate about half of the asparagus pictured above and only 1 of the juicy bratwursts Matt thought a picture of his individual plate would be more entertaining to share ...
...what can I say? The man likes his mustard :)
Happy What I Ate Wednesday!