Hi darlins'! It's great to see ya here!
It's What I Ate Wednesday (WIAW) today, and so I'm going to share my eats from this Monday.
It was a long day so I ended up having 6 separate meal times!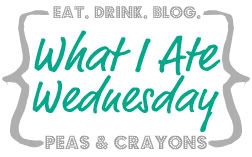 For starters... at around 5:30am I had a quick smoothie. I only finished about half of it because I was in a rush, but it was still really filling (and Matt was happy to have the rest).
Ingredients: Frozen strawberries and peaches, 1 whole banana, a scoop of vanilla protein powder and about 1/2 c. of vanilla almond milk (much like my previously posted smoothie recipe, just with different flavors).
For Breakfast Part Deux, I whipped up my usual dose of scramble for the day at about 8am.
Ingredients: 1 whole egg, 1 egg-white and 1/2 a baked potato.
Around 11... I turned to coffee flavored with a bit of SF hot chocolate mix, strawberries and a little piece of Girl Scout Cookie shortbread happiness :) The sugar was a wonderful pick-me-up.
For Lunch a couple hours later... I cooked up a microwave concoction of steamed green beans and chicken. I'm a huge fan of freezer meals for busy days, and this one is just a full bag of Bird's Eye SteamFresh green beans with chicken tenders added in.
Around 4pm, I noshed on about 1/2 a red bell pepper and some baby carrots. Eating raw veggies around this time of day usually fills me up just right before heading to the gym, and this snack was no exception. Monday night I ran 3.9 miles in ~37 minutes followed up with a core workout and felt great!
At about 7:30pm, I decided to get a spicy with dinner and delight in some
homemade Tomatillo Salsa Verde
& tortilla chips paired with a Brinner Burrito doused with my favorite hot sauce.
Ingredients for the Burrito: 1 Whole Wheat Tortilla, 2 eggs, 1 chicken patty and red & green bell peppers.
I hope you enjoyed my random day of food, thanks for reading, and good luck with all your nutritional and healthy living goals this week! You can totally do it :)