Hi darlins'! It's great to see ya here!
So, I'm trying something new today and linking up with
Peas & Crayons
for What I Ate Wednesday, a weekly food diary that's all about food and fun! Basically, you pick a random day of the week, capture what you ate, and link up on Wednesdays to share :)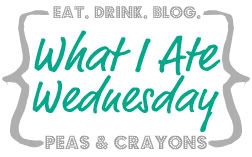 Here are my Earth Day eats!
Since it was Earth Day, I kept my meals very veggie friendly...
I'm a big snacker, and Earth day was no exception. In the morning before lunch, I had a big bowl of blueberries and then followed that up in the afternoon with red bell peppers and carrots. My post-dinner snack was a plate of
homemade roasted red pepper and garlic hummus
with some more baby carrots.
And for dinner, I partnered up with a friend and cooked up a plate of garlic cauliflower, Italian style meatballs and fresh green beans made in EVOO topped off with a glass of Oliver Red :)
I love getting new meal ideas on WIAW, and I'd definitely recommend heading over there and checking some of the posts out. Happy Wednesday and best of luck with all of your healthy goals!